Sleek, Curly, or Wavy -
It's All Possible with the
Infrarose Styler
Fast-heating titanium support fast, free-free styling for a variety of gorgeous styles
Order Now
---
HEY BEAUTIFUL!
We know the pain that stems from bad straighteners: dry, brittle strands, damaged ends, frizz... Luckily, our product developers worked closely with the latest tech to help solve these problems.
Titanium Plates support frizz-free styling for all hair textures
Smooth, one-pass straightening for all hair types
The digital screen helps you style with a precise temperature that helps you avoid overheating and damage
Heats up in 30 seconds or less
1-Year warranty & 60 day money-back guarantee
Whether it's the quick heat up time saving the day on busy mornings, its lightweight design making daily use or travel a breeze, or how the titanium plates glide over any hair type, creating a glossy, healthy shine,Infrarose Styler "Titanium Edition"from SRI will become the last straightener you ever need.
---
STYLE IT ALL WITH THE INFRAROSE STYLER!
Get sleek, straight hair or relaxed beach waves with one amazing tool
---
TECHNOLOGY
The Skin Research Institute is an organization built on science. As a leader in the health and beauty industry, SRI is proud to combine innovation and cutting-edge technology to create this powerful flat iron.
FLOATING PLATES
Floating plates allow you to style without pulling, snagging, or tugging hair.
SMOOTH CURVES
A non-slip, rounded body gives you freedom to transform your hair into beautiful, straight locks or even soft beach waves!
ORBIT CORD
An ergonomic 360* swivel cord prevents tangling as you easily style your hair from all angles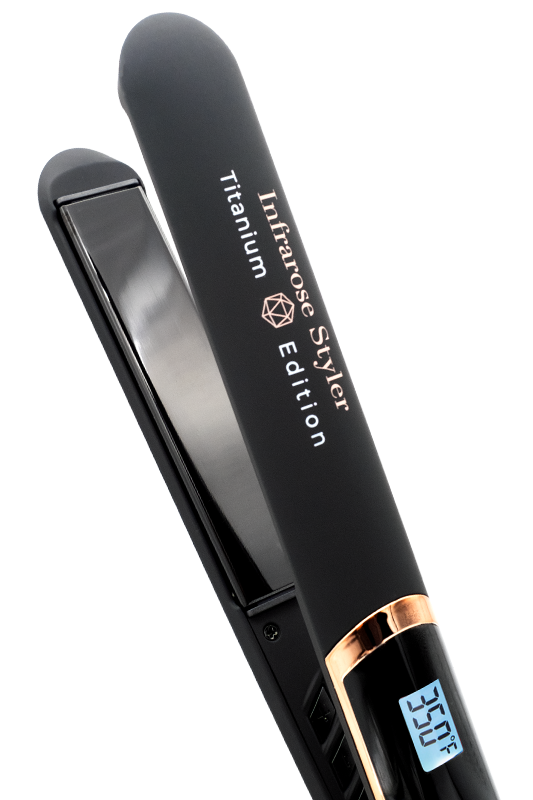 TITANIUM PLATES
Provides even heat distribution that supports frizz-free straightening for all hair types.
HEATER METER
The temperature gauge and digital screen allows you to watch as the straightener quickly heats up to your desired temperature (250*-450*).
LOCK-IT LATCH
A travel-friendly closing lock allows for safer cooling and easy storage.
Invest in Your Hair... You Wear it Every Day!
Infrarose Styler
Retail Price: $169.00
Your Price: $118.30 + Free Shipping
Order Now
Status Update:
We are proud to say our dedicated staff is shipping our products quickly and safely during this unusual time of COVID-19. There are NO SHIPPING DELAYS on U.S. orders (2-5 days average shipping time).
---
BEFORE AND AFTER
*Paid Actors -
Individual Results May Vary

*Paid Actors -
Individual Results May Vary

---
REAL REVIEWS
*Individual Results May Vary

---
FREQUENTLY ASKED QUESTIONS
How long will my Infrarose Styler take to ship?
Our dedicated staff is doing their best to ship our products safely and quickly during these unusual circumstances of COVID-19. Currently our products ship out within 48 hours with a 2-5 day average shipping time.
How fast does it heat up?
The SRI Infrarose Styler heats to max temperature in under 30 seconds. If you're using another temperature setting, heat up time will be even shorter.
Is the SRI Infrarose Styler safe to use every day?
Yes—the Infrarose Styler is built for daily use. Its numerous health-conscious features ensure that you get best possible straightening minimizing damage. Instead, your hair will be healthy, sleek, and lustrous.
Read More
Let's Get in Touch
CONTACT US
We thrive on your feedback. If you have any comments/questions, please email us at support@skinresearchinstitute.com or give us a call at (800) 958-1094.
One of our friendly customer representatives will be happy to help you.We hope you'll be blown away by your results.
60 DAY SATISFACTION GUARANTEE
Refund Policy - Your happiness is a top priority at the Skin Research Institute. If you're not 100% happy with your purchase for any reason at all, you're able to receive a refund within 60 days of your purchase.
If you're not happy with your SRI Infrarose Styler, all you have to do is return it within 60 days of your order date. To ensure you get your refund processed successfully, you must include an RMA #.

Here's a clear breakdown of the return process:

1. Call us at 1-800-958-1094 or send an email to: Support@SkinResearchInstitute.com to start the return process — within 60 days of placing your order.

2. From here, one of our award-winning Customer Success Team members will provide the two things you need to process your return — your return authorization number (RMA#) and the mailing address to the proper Authorized Return Center.

3. Send your product back to the address provided with the RMA # and you will receive your refund.

Please note: You are responsible for paying for the shipping + handling fee associated with shipping the product back to the Authorized Return Center.

Your Information is Secure - All online orders are 100% secure. We do not share your personal information without your explicit consent.

Customer Satisfaction is Our #1 priority - The Infrarose Styler helps you get sexy, sleek, straight hair while promoting the hair-strengthening benefits of red light technology! Don't miss out!


1 YEAR WARRANTY
We conducted extensive research and development so we know the Infrarose Styler is a high-quality product that will last you for years, but we still give our customers a one-year warranty in case anything happens!
If you experience any technical issues with your Infrarose Styler, we've got your back with a 1-Year Warranty.

We aim to make this process as simple as possible with transparent details and directions should you have to activate your warranty.

Here's a clear breakdown of the warranty process:

1. All manufacturing defects and technical issues are covered if your Infrarose Styler stops working.

2. Once you contact our customer success team, they'll provide a return authorization number (RMA#) and the address of the proper Authorized Return Center to ship the product back.

3. Ship the product back to the Authorized Return Center address provided and receive your new Infrarose Styler soon after!

Please note: You will be responsible for a restocking fee of $17.99 — but we'll cover the shipping & handling fees needed to get your defective product to the proper Authorized Return Center.

If you have any questions or concerns throughout any part of the process, please don't hesitate to contact our Customer Success Team!


Customer Success Team Hours:

Support@SkinResearchInstitute.com
Toll Free Number: 1-800-958-1094

Mon - Fri: 6am-6pm Pacific Standard Time
Sat: 8am - 5pm Pacific Standard Time
Sun: 8am - 5pm Pacific Standard Time